Joshua Tree Music Festival
Hosted by: Joshua Tree Lake Campground in Joshua Tree, California
I had the privilege and honor to be involved with the Joshua Tree Music Festival this Spring, 2023.
My first highlight was hands down, Painting and Dancing at the Golden Dawn Arkestra. This band is amazing! The set was a rollercoaster of psychedelic world fusion with unexpected twists and turns. I had so much fun, and got to meet other muralists too!
Trinity Wave holds her live painting to music by Golden Dawn Arkestra
Social Justice Activism was present at Joshua Tree Music Fest. Grateful to
see artists of color at the festival, and artistic works that seemed to
inspire social justice and activism at the festival. This pulled at my heart
strings because I believe we are all worthy of equality, love, and freedom,
no matter your racial background or nationality, but I've felt like it was
hard to connect with brothers and sisters in everyday life.
Teacher Teaches Seed Ball Making to Students at the Queer Salon.
I was so moved by my connection to the Queer community at the Joshua tree Music Festival. I think there is such a beautiful openness out here in the desert that it could attract people who have once felt closed off, like they had hide who are they are. I felt closeted and confused in my hometown, in Virginia. Not only was the landscape more closed in, but so too seemed to be the mental freedoms of sexuality.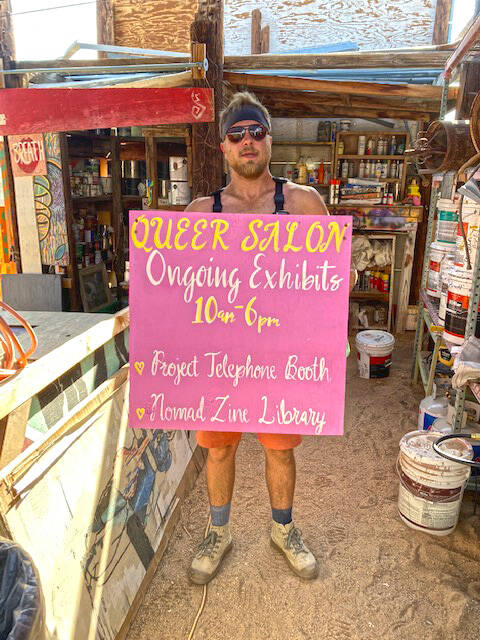 Local painter holds Queer Salon Sign
I'm so grateful that I got to do a tarot reading at the Queer Salon this past weekend. At Joshua Tree Music Fest, I did a reading with a woman named Sandra, and got to use my Fire Circus Tarot Deck. She picked the World card, this is a card about completion, synthesis, a deeper understanding from where you are and looking back at the past, and celebration. She told me her story, and I told her mine. We were both crying. I told that many of my projects seemed to come to completion around this past festival. Grateful to be able to share my tarot deck, and some of my story through these cards.
I didn't come out to my parents until I was 19, in college, and after I had my first sexual experience with a 23 year old woman. I had some relationships with women in college, which now seem like a mixture of acting and/or experiments because I didn't know who I was.
"I was grateful for being able to reconnect with my queerness, meet new folks in the community to grow, share, and connect with this festival."
Finale of the Golden Dawn Arketestra at JTMF 2023
Thank you, Joshua Tree Music Festival for bringing together these beautiful people from so many different walks of life, that we could be together, and share in joy, music, and life. I hope to be a part of more to come.
Lisa Sanders and Brown Sugar, sunday morning soul at Java -gogo